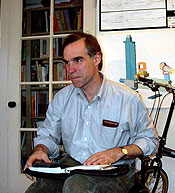 Intellectual Property
For a number of the projects described on this site, the intellectual property rights are retained by others, notably the California Institute of Technology, the Jet Propulsion Laboratory, and NASA. To license NASA / JPL technology contact NASA Commercial Technology Network (CTN) at:
http://nctn.hq.nasa.gov or use the JPL Technology Transfer Office at: http://techtransfer.jpl.nasa.gov.


Access to Government and University Facilities

Access to JPL facilities should be sought directly from JPL. Access to unique facilities at JPL may be available through the JPL Technology Transfer Office and their "Technology Affiliate" programs. Although the words Caltech, JPL and NASA are mentioned in these pages, this web site is a private site without direct government affiliation.
Use of Images

Images presented on this site are either generated by Robert Chave or permission for their use was either obtained or waived by the institution of origin.

Copyright on this Web Site
Robert Chave Applied Physics Inc., Copyright © 1999 All rights reserved.
Revised: Rev. 1 May 30, 2001. Rev. 2 October 1, 2001 Rev. 3 August 9, 2002