The core task in the design and packaging of the ALIAS instrument was that of reducing a 1500 pound instrument designed for a balloon gondola to a 150 pound instrument for aircraft use. Responsibility for instrument configuration, packaging, mounting and mechanical design was primarily mine. The weigh limitation was met, and the instrument first produced in 1993, is still presently in service.

For extensive JPL pages dedicated to this instrument follow this link to:
http://laserweb.jpl.nasa.gov/alias.htm


Principle of Operation:
(Extracted from a paper entitled Aircraft Laser Infrared Absorption Spectrometer for in-situ stratospheric measurements of HCl, N2O, CH4, NO2, and HNO3, Applied Optics in 1994, by Webster, May, Trimble, Chave and Kendall)

The ALIAS instrument is a very high resolution scanning tunable diode laser spectrometer which makes direct, simultaneous measurements of NO2, HCl, CH4, and N2O (including vertical profiles of CH4 and N2O) at sub-part-per-billion level sensitivities over a 3-30 second integration time. Unique features include a sample inlet/throttle system designed to achieve near-isokinetic sampling in PSC events, an in-flight wavelength reference cell rack, a mechanical fringe-spoiler, a four-laser/four-detector dewar with 24-hour hold-time operating at a fixed temperature without electrical regulation, and in-flight fast correlation routines for spectral drift compensation prior to spectral addition. Laser light in the 3.4 to 8 micron wavelength range from four lasers is injected into a one-meter 80-pass Herriott absorption cell fitted with mechanical fringe-spoiler in a flowing configuration with a cell flush time of 1 to 2 seconds. ALIAS is run using a 486-based computer and 200 MByte sealed hard-disk.

Accuracy: Typically 5-10%, depending upon IR spectral parameters and SNR
Precision: Depends upon observed atmospheric concentrations and SNR
Detection Limits: NO2 (0.05 ppbv); HCl (0.05 ppbv); CH4 (0.2 ppbv); N2O (0.1 ppbv)
Response Time: 3 second data collection: 30 second full integration time for above sensitivities
Location on ER-2: Spear pod on right wing.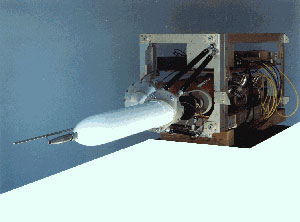 ALIAS Instrument

About this photo: The image above shows the ALIAS
instrument package installed in a standard ER2
rectangular instrument rack, ready for mounting in the
under-wing-pod of the ER2 aircraft. The white probe is
G-10 fiberglass, 15 cm in diameter and contains heaters
which help ensure that the air sample obtained is purely
in gaseous form, rather than a gas and crystal mix.
The cell behind the white probe is the Herriott absorption
cell in which the multi-pass spectroscopy is done.